Darren Drake – Attorney at Law
Client satisfaction is my number one priority. I offer high quality client centered legal representation. As a Criminal Defense Attorney, I work hard to ensure that my clients 4th, 5th, 6th, 8th, and 14th Amendment protections of the Constitution are observed by law enforcement and the legal system. I thoroughly research all evidence, statutes, and laws concerning my cases. I promptly respond to all correspondence and stay in touch with my clients, opposing counsel, and court officials. I value my clients, take my craft seriously, and build long-lasting relationships with those I represent.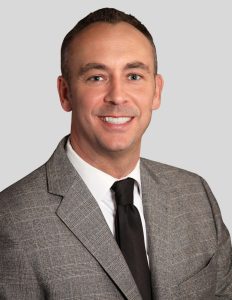 After high school, Darren enlisted in the United States Navy and served for six years primarily as an Electronics Technician. Between 1996 and 2002, he was stationed onboard two aircraft carriers, the USS Kittyhawk CV-63 in Yokosuka, Japan, and the USS Constellation CV-64 in San Diego, California. Darren also served one year tour on Diego Garcia, a remote island near the equator in the Indian Ocean. While in the Navy, Darren earned three Navy Achievement Medals. He was both Enlisted Surface Warfare Specialist and Enlisted Aviation Warfare Specialist qualified. Darren was also a firefighter and performed damage control throughout the ships during general quarters and battle stations.
After the Navy, Darren attended Southern Illinois University at Carbondale using the Illinois Veterans Grant and the Montgomery GI Bill. In his spare time, Darren played rugby for the mens club rugby team. In May 2005, he received a Bachelors of Science in Electronics Systems and entered the work field.
Two years later, Darren heard from an old military friend that was now an attorney. Knowing Darren would enjoy practicing law, he made Darren promise to take the law school entrance exam. Two months later, Darren took the exam and was accepted into law school. Upon discovering that he still had Illinois Veterans Grant benefits available, he chose to attend Southern Illinois University School of Law. After his first year of studies, Darren went overseas to Ireland for the summer and studied the Law of European Union in a study abroad program hosted by the University of Missouri School of Law.
In his second year of law school, Darren helped found the Veterans Legal Assistance Program at SIU. The program provided free, pro-bono legal service to veterans that had been previously denied claims by the Veterans Administration. During the summer of his second year of law school, Darren practiced law as a certified law clerk in California for the Ventura County District Attorney's Office in Ventura, California. Under the supervision of an attorney, he successfully prosecuted felony criminal preliminary hearings on behalf of the State.
In his final year of law school, Darren served as the Vice President for the Southern Illinois University Graduate and Professional Student Government. Additionally, Darren served as the President of Phi Alpha Delta Law Fraternity International, Stephen Douglas Chapter.
During school and other breaks, Darren and his wife visited Memphis, Nashville, Murfreesboro, Chattanooga, and Gatlinburg. They both fell in love with Tennessee's natural beauty, its music, and the kindness and pride of its people. They moved to Murfreesboro immediately after law school and made it their home.  Since 2011, Darren has been a volunteer firefighter in his home community of Lascassas and he is currently the Assistant Chief of Lascassas Volunteer Fire Department.
In 2011, Darren teamed up with established Attorneys John Drake and Tom Frost to form: Drake Drake & Frost – An Association of Attorneys. In 2019 Darren formed an Association with Attorneys John Drake, David Clarke, and Ryan Freeze.
Darren Drake is a member of the T.A.C.D.L – Tennessee Association of Criminal Defense Attorneys and the Rutherford & Cannon County Bar Association. Darren is admitted to practice State law within Tennessee and Federal law in the United States District Court for the Middle District of Tennessee in Nashville. Darren focuses his practice as a Criminal Defense Attorney, and DUI Attorney. Darren is a skilled Murfreesboro Attorney.
Darren represents clients in the courts of Rutherford County, Davidson County, Cannon County, Coffee County, Bedford County, Wilson County, and the central Tennessee area.